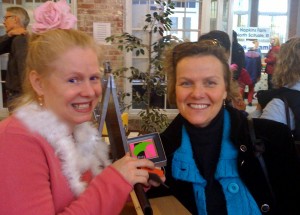 Gail Ahlers creates a custom birthday gift. Not all of our projects are for corporations. Our design services are for creating gifts that bring joy to our customers and the recipient of our gifts. Seen here we have a happy customer that asked us to create a travel jewelry case using our photo-enameling process. She told us her friend's name, her favorite colors, favorite plant ( a ginko leaf ) and a little insight into her personality. With that information we handcrafted her gift and, as seen in this photo, she was delighted.
The photo-enameling process allows us to create one of a kind or limited edition artwork for our clients without having to make a custom pewter emblem. We have used this process to create bridesmaids gifts, unique holiday gifts and wedding party gifts. We can create that jewelry box that the rings are transported to the ceremony. We can make a custom design or use an photograph that has special meaning. We can embellish the surface with Swarovski Crystals, sentimental items like a luck penny, dog tag or pressed flowers.
After all what is more important in life than the people we love.
I enjoy that making people smile is part of my job.